Good Morning, Trisphites!
Say, are any of you feeling... a bit dragonish? Perhaps the taste of meat has more appeal that usual, or the way you look at sheep and other such livestock has recently been a bit on the disturbing side? Never fear! Express your inner terror-serpent with Tufted Dragon! This set will allow you to fulfil your wildest fantasies of soaring over mountain ranges, and carrying off well-deserved snacks from the fields of farmers. We have Mountainside and Lakeside versions, as well as a special Rainbow version for when the monster within also happens to be fabulous.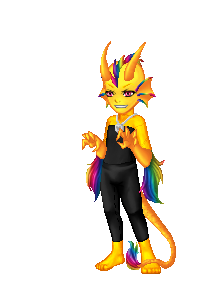 Find all three variants, as well as the
Tufted Dragon Horns
in the
Body Shop
, and look for the
Tufted Dragon Ridge
in the
Salon
. The locket that shows your best intentions of dragon-dom is called
Pureheart Locket
, and it's sitting in
Trinkets
, waiting for you to snatch it up in your scaly claws.
There are two new Eat It shirts as well (in
Eggplant
and
Peach
flavors!) if you're feeling a bit on the hungry side thinking about all those cattle and sheep! Find those in
Threads
!
Have a great day, Trisphites!